LOT INFORMATION: Vendors who attended our flea market last year have until July 1 to reserve their same lot. After that date, lots are filled on a first come basis. Lot size is 23×25. Vendors receive two wristbands and one vehicle pass. Extra wristbands are available for purchase ($10). There is no electric in the flea market, but water is available. Generators are allowed but must be shut off during quiet time (midnight to 7 a.m.) Vendors are allowed to camp on their lots. All vehicles must be parked on vendors' lots or in main parking lot.
PRE-REGISTRATION: Before July 1: $40, $45, $50.
Registration after July 1: Price increases to $60, $65, $70.
FLEA MARKET SET-UP: Tuesday and Wednesday, Sept. 4 & 5, 2018 from
8:30 a.m. to 7 p.m.; Thursday, Friday, Saturday and Sunday, Sept. 6-9, 2018  8 a.m. – 10 a.m. only.
NOTICE: Vehicles are not allowed into the show from 10 a.m. to 4 p.m. Thursday, Friday, Saturday or Sunday. Please plan accordingly.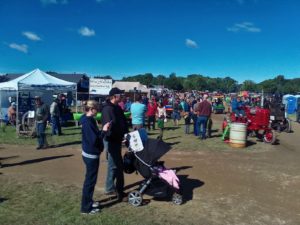 NOTICE: No ATVs, mini or dirt bikes can be driven on show grounds. You can sell them, but will not be able to test drive.
PETS: Pets are welcome, but they MUST stay at your camp site at all times.
All Personal Transportation Vehicles, except one seat mobility units, must be registered. Cost is $15 and good for entire show.